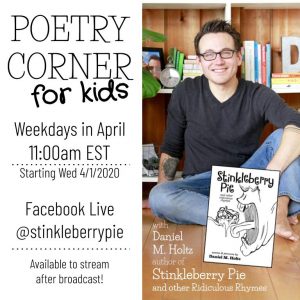 APRIL
is
POETRY MONTH
!   And who better to experience it with than
Vermont Poet Daniel M. Holtz! 
 If you enjoy whacky, silly, and (sometimes) rhyming poetry with a big dose of humor then join Daniel as he shares his poems weekdays beginning today, April 1st. Here's what Daniel has to say:               
   e-Learning parents…have your kids tune in here to Facebook Live, every weekday in April at 11:00am Eastern (8:00am Pacific), for Poetry Corner! About 20 minutes of educational entertainment for kids, and the kid in you! Feel free to ask questions and comment live. And, every episode will be available to stream after broadcast!
---
   3/30/2020   Hello Edmunds Elementary Students and Families!  During this time of remote learning I will be publishing links to various websites that you may find useful for reading, writing, researching or just for fun! Please visit our Library Learning Links page to see the various sites available to you.  Let me know if there is something you would like to see & I will try to add it! 
My email is: kneil@bsdvt.org  Stay well, friends!  Mrs. Neil
---
The Edmunds Elementary School Library's mission is to provide our students with the resources and support necessary for them to become skillful readers, researchers, and ethical users of information and technology.  We want to instill in them the desire to become independent thinkers, creative learners , grow in their love of literature, and to share their knowledge with others. 
   Our library is open during regular school hours.  All students visit the library on a weekly basis for a 45 minute literacy and/or technology lesson and to check out books. Parents are also welcome to check out books to enjoy at home with their children.