Hello Edmunds Elementary Students and Families! 
Hope you had a wonderful school year and are enjoying a well earned summer break!  Please continue to visit our Library Learning Links page to see the various sites available to you for reading, writing, researching or just for fun!  
Stay well and have a great summer, friends! 
Mrs. Neil
---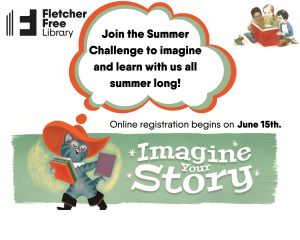 Can't get enough reading?  Join your friends at the Fletcher Free Library for a summer reading program that will keep you learning and having fun all summer long!  This year's theme is "Imagine Your Story".  To register visit the FFL website.   Keep reading!!
---
The Edmunds Elementary School Library's mission is to provide our students with the resources and support necessary for them to become skillful readers, researchers, and ethical users of information and technology.  We want to instill in them the desire to become independent thinkers, creative learners , grow in their love of literature, and to share their knowledge with others. 
   Our library is open during regular school hours.  All students visit the library on a weekly basis for a 45 minute literacy and/or technology lesson and to check out books. Parents are also welcome to check out books to enjoy at home with their children.